One of Tech-Western's Business subsidiaries is called Really Efficient Homes.  We believe this is the future of home building!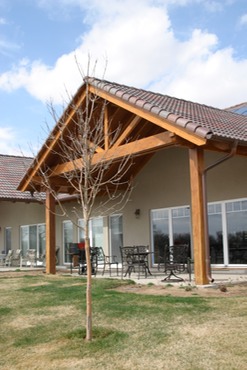 Tech-Western was contacted by a home builder in Germany interested in bringing their technology to the USA. That technology included solar thermal domestic hot water and in-floor radiant heat/cool systems, wind energy and solar photovoltaic systems, tilt-turn windows, wall hung water saving toilets and whole house water recycling/treatment systems. Tech-Western spent the next year learning about these technologies before bringing these ideas to Colorado. In 2005, we shipped a 5,400 square foot home from a plant in Geseke, Germany to our job site in Kersey, Colorado. The main structure including all interior and exterior walls, exterior tilt/turn windows and complete roof system, was erected in just over two weeks. The balance of the project was finished in a normal time frame and the end result was a high energy efficient home built to last decades longer then homes built in a more conventional manner.
If you are interested in one of the most "Built Green" and "Energy Efficient" homes now available in the USA, please contact us or visit www.reallyefficienthomes.com.